Home
2003
NYC - May

2002
San Antonio - March
Mission de San Jose
San Antonio - April

Ah our mini-vacation to San Antonio. We both really enjoy San Antonio. The festive river-walk, the warmth of the people, it's really a great weekend get-away for us. This time it was to celebrate Jan's birthday, our anniversary (coming up in a week or so - our 3rd) and just to break the drudgery of the daily routine. We drove down in pouring rain on Friday. Jan had booked us into La Mansion over-looking the river-walk (I really recommend this hotel). We were both a little tired from the drive down (it took an hour to get thorough Austin traffic). Friday night we had a nice dinner in the room, white table linen, and a really fine meal.

Saturday, it was cool and windy as we walked along the river walk. Smelling the aroma's from all the of restaurants and cafe's, listening to the wooden flutes of a South American band and catching pieces of conversations floating past us made it a delight to just hang out. Saturday evening there was a Flamenco guitarist and singer performing in a cozy bar downstairs. Both performers performed with passion and a fiery excitement. I had never heard flamenco music performed live before but I quickly became a convert.

Sunday dawned chilly and a light mist was just finishing dusting the area as we made our way down the river walk and up to the Alamo. It was fairly crowded inside the Alamo with long lines snaking through the interior. We decided to just walk around outside on the grounds. Sunday afternoon we headed off to see one of the Missions on the Mission trail. You can see those pictures on the 'Mission de San Jose' link. All in all, it was a great get away and a refreshing journey back to a town that we both enjoyed and missed.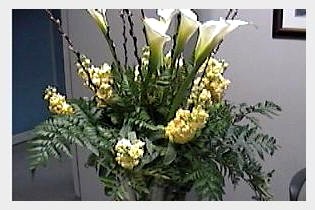 Jan received these flowers from her staff/friends at work. Her birthday isn't until Saturday the 9th, but we're headed out to San Antonio for a long weekend tomorrow (Friday March 8, 2002).