Home
About us
Our Texas Home
Our NM Home

Email
Bob or Jan

Flying Resources
Canard Resources
Michael Pollock

Our RV Project
Details
Tools
Shop
Practice
Misc

Empennage
Arrives - Feb 21, 2002
HS Parts
HS Build
HS Attach Angle
VS Parts
VS Build
Rudder Parts
Rudder Build
Elevator Parts
Elevator Build


Wings


Fuselage


Finish


RV9/9A Links
S. Todd Bartrim
Tim Coldenhoff
Steven Curran
Ray and Michele Doerr
Thor Hardarson
Chris Heitman
Brad Hiatt
Todd Houg
Andy Karmy
Gary Newsted
Gene Park
John and Vivian Rotunda
Robert Scott
Jim Streit
Barry Wainwright
Sam Mourning
Warren Hurd


Ivo Welch
Matthew & Sandi's
Matt's Subie Pwr 9A
Clay's RV9A
Thor Hardarson


RV Extra's
Meske Tip-Up Slider Canopy Mod

Fabian Lefler's Great Modular Instrument Panel

RV Pic's
RV9 Pics by Kelly
Johnson
Andy Karmy's Pic's


Sam Benjamin's 9
Matt's Subie Pwr'd RV9A
Bill Jaques Subie Pwr'd RV9A

Bob Cuttings RV9A

<![if !vml]>
<![endif]> This will document the building of the Horizontal Stabilizer portion of the Empennage Kit. This is the first major step in the building process.

We did run into a couple of bumps here which I'll admit too.

The first was not creating/mating the HS-909 shims before drilling out the front spar and doubler. A check with Van's verified that this was really no biggie and I could back drill it when it came time.

The second bump came when I attempted to, as the instructions state, 'fabricate the HS-908-R & HS-908-L attach angle brackets'. That's the sum total of the instructions. Of course if you read the 'shop' link you'll discover that I have no building experience of any kind. I searched all of my links on the web for information on how to do this. I couldn't find anything. Most folks didn't show a picture of a completed part or if they did they didn't tell how they got there. So I tried out some of my new, never before been used tools in the garage. It's alright I still have most of my fingers - at least the ones that really matter. Of course some of the tools literally didn't cut it and made a botch of things. This brought about my first mutterings of 'let's call Van's and order a new part'. Jan watched quietly as I experimented on my part before tackling hers. She of course used her experience of sewing to do a really good job on her part. I'll wait for the 'new' angle from Van's before I follow her 'experiment' and tackle my 'second' part. I'll also document the process on the web so other building-challenged builders will not have to duplicate my experience (see the 'HS Attach Angle' link to the right).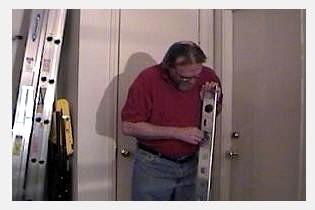 Monday - March 4, 2002
Bob prep-ing the HS spar.
Preparing the spar's. Every piece of metal needs to be 'prepared'. This is done by smoothing the edges with a lot of elbow grease and emery paper. I did one spar and Jan did one spar. After my second spar I decided it was time to get a dremel tool. Way too much elbow was required.